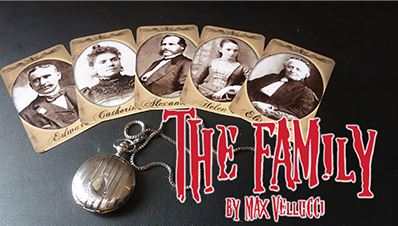 THE FAMILY
$23
(List Price: $25)

The Blurb
Five pictures of a nineteenth-century family that will allow you to create different effects of extraordinary and bizarre mentalism.
FIND A DEAD
The mentalist takes three photos and mentally chooses for the spectator. After a few steps the mentalist will be able to identify the spectator's thoughts. To make the effect more impossible, the mentalist repeats it all but with the photos faced down.
SÉANCE
A real séance where the spectator will become the medium and will be able to identify the only family member who died in a tragic way. An incredible effect where the real protagonist is the spectator himself.
PREMONITION
The mentalist and the spectator will both have the 5 pictures of the family members. The mentalist puts the pictures face down in order of who died first to last and invites the spectator to do the same. Once the pictures are turned over, they appear to be perfectly matched.(NOTE: To do this effect you will need two decks of The Family)
Notes:
a deck contains 9 high quality cards (tarot size, 310 gsm linen)
– 5 photographs of the main characters with two special secrets that allow to create varius bizarre mentalism effects.
– 2 photographs with a blood stain on the back to perform two different versions of "Find a Dead"
– 1 special Helen's picture for horror style effects
– 1 double-back picture, with a blood stain on one side
The "Jheff's Judgment" column below is a brief summary of a longer, more detailed version. For the longer and more in-depth version, and to get news and information about other mentalism products, please visit the Marketplace of the Mind Forum or subscribe to the free newsletter.