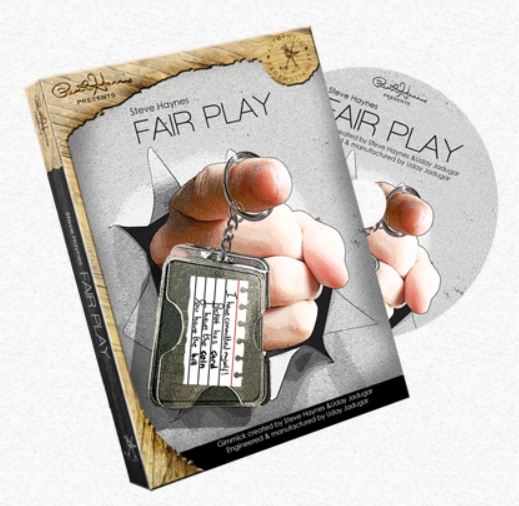 Until December 15, all those who pre-order this will receive an instantly downloadable PDF of Jheff's "Bewildermental," a knockout version of "Free Will" that does not use the usual methods and allows for completely free choices. It uses a completely different gimmick and method than FAIR PLAY.
FAIR PLAY
$39.95
This is a non-featured item. For more information, please visit the Marketplace of the Mind Forum, a subscription-based site that contains more detailed reviews, news, and other information about mentalism and mentalism products.

The Blurb
INGENIOUS NEW GIMMICK PREDICTS LOCATION OF THREE BORROWED OBJECTS!
Hanging from your keychain is a clear photo holder. Locked inside is a scrap of paper with a secret message. You're spectator holds the keychain message in her hands.
You then borrow ANY business card, ANY coin and ANY dollar bill.
Your Spectator FAIRLY places ANY one of the three objects in HER Pocket. It's a completely free choice.
She then FAIRLY gives you ANY one of the other two objects to hold in YOUR hand.
She keeps the third FAIRLY CHOSEN object in her hand.
THE BUSINESS CARD, THE COIN, THE BILL. SHE DECIDES WHERE TO PUT EACH ONE.
NO Forces. Her choices are FREE. She can change her mind as many times as she wants!
THE KEY CHAIN PREDICTION SHE'S BEEN HOLDING THE ENTIRE TIME IS THEN READ: IT'S 100% ACCURATE!
(EXAMPLE)
POCKET HAS CARD
I HAVE THE COIN
YOU HAVE THE BILL
And yes..The keychain prediction can be completely examined!
Beyond any doubt..Fair Play is the Fairest of them all!
An astonishing new gimmick for Corbuzier's Free Will plot.
SPECTATOR makes ALL the choices
NO FORCES
SPECTATOR CAN CHANGE HER MIND AS MANY TIMES AS SHE WANTS
ALL CHOICES ARE 100% FREE CHOICES
AND EVEN MORE FAIR
SPECTATOR HOLDS THE PREDICTION FROM THE START
NO SWITCHES OR MOVES
NOTHING TO ADD OR TAKE AWAY
NO ELECTRONICS
RESETS IN SECONDS
SPECTATOR CAN COMPLETELY EXAMINE THE PREDICTION
ALL THREE OBJECTS ARE BORROWED
The Fair Play Gimmick is Completely Self-Contained and Self-Working.
Just snap it onto your key chain and you're always ready to play!
FAIR PLAY
MAKE THE ONLY POSSIBLE CHOICE TODAY!
INTERNATIONAL FAIR PLAY!
COMING SOON…
JAPANESE (Gimmick includes Japanese characters)
UK EDITION (Gimmick uses the word "note" instead of "bill")
The "Jheff's Judgment" column below is a brief summary of a longer, more detailed version. For the longer and more in-depth version, and to get news and information about other mentalism products, please visit the Marketplace of the Mind Forum or subscribe to the free newsletter.