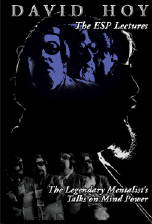 The following item is not sold or distributed by the Marketplace of the Mind. It is available only through the link below ("Link to Site").
THE E.S.P. LECTURES
$20.00
This is a non-featured item. For more information, please visit the Marketplace of the Mind Forum, a subscription-based site that contains more detailed reviews, news, and other information about mentalism and mentalism products.

The Blurb
Miracle Factory Phantom Gramophone Series:
DAVID HOY THE E.S.P. LECTURES
The Legendary Mentalist's Talks on Mind Power!
— A valuable source for the mentalist!
— The complete audio tracks of three rare Hoy LPs
— More than 2 hours of David Hoy's lectures
— Hoy's predictions for the public
— Convenient mp3 format
In the 1970s, the U.S. public was fascinated with E.S.P. — extrasensory perception — and famed mentalist David Hoy was part of that popular wave, traveling the country lecturing
on mind power. As part of his promotions for these talks, Hoy recorded three LPs full of his thoughts on the subconscious, dreams, awareness, telepathy, meditation, and precognition.
These rare recordings preserve the commanding voice of David Hoy and show us how he worked with his audience as an expert on the mysteries of the mind. You'll also hear how he made predictions and handled questions from his audience. In all, a priceless source for the mentalist!
As David Hoy's hypnotic voice guides you through the world of thought power, you'll be fascinated by the ideas he discusses and the valuable lessons in presentation you will
discover!
The CD includes the best available copies of these impossible-to-locate albums, digitally restored for optimum audio quality.
The "Jheff's Judgment" column below is a brief summary of a longer, more detailed version. For the longer and more in-depth version, and to get news and information about other mentalism products, please visit the Marketplace of the Mind Forum or subscribe to the free newsletter.