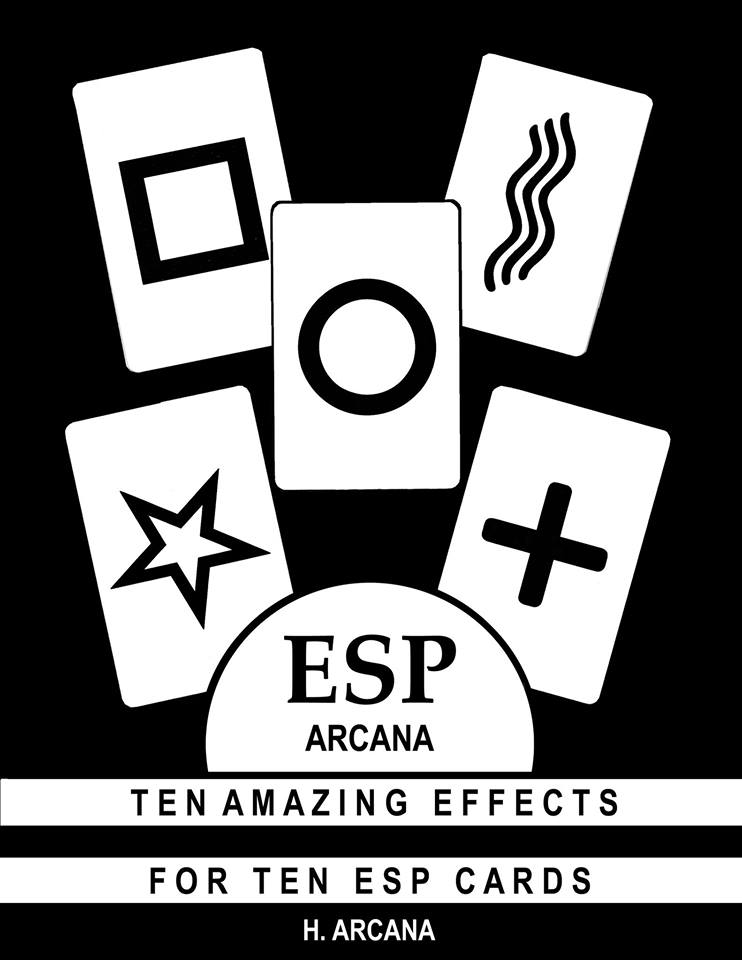 The following item is not sold or distributed by the Marketplace of the Mind. It is available only through the link below ("Link to Site").
ESP ARCANA
$50
This is a non-featured item. For more information, please visit the Marketplace of the Mind Forum, a subscription-based site that contains more detailed reviews, news, and other information about mentalism and mentalism products.

The Blurb
Ten Amazing Effects with TEN ESP cards
H. Arcana has finally stepped out of the shadows as a
creator of commercial mentalism, starting you off with a
series of complete routines written throughout this 41 page
manuscript which explore the use of only ten ESP cards.
Learn TEN secrets that give you the power to master the art
of chance! H. Arcana has created a thoroughly written text,
providing you with TEN full routines that can be performed
both separately or even together in a multiple phase
routine. Once you have learned the secrets, you will possess
the ability to perform an amazing mentalism repertoire with
the very symbols used initially to scientifically study ESP
at Duke University- and right out of your shirt pocket!
LEARN:
*Subtleties at guessing which symbol is being merely thought
of
*Principles to give genuine intuitive readings with only 10
ESP cards
*Techniques that allow you to work with one person and
create amazing synchronicities
*Techniques that allow you to work with two people in
similarly interactive ways
*Unusual methods to interchangeably apply to each other and
create new routines
*Routines in which the spectator is always shuffling and
making all the decisions
*A way for your spectator to make all choices, yet result
in every symbol matching up!
$50 (plus $6 shipping within the USA, or $12 for all other
purchases).
"In all seriousness H.A. you've blown my mind and taken a
guy that seriously loathed anything done with ESP Cards and
made him a believer. You've done something important and
found that thing that's been missing when it comes to this
sort of work."
Craig Browning (Northampton, MA)
"I'm very impressed with Homer's ESP Arcana. He has taken
the use of ESP cards into another, and fascinating,
dimension. Highly Recommended."
Bob Cassidy, Master Mind Reader (Seattle, WA)
"I am blown away by the elegance of his thinking on a
regular basis. Not only superb effects but the subtleties
and attention to detail that mark a true pro. I predict
great things from this talented and experienced performer."
Bill Cushman (Miami, FL)
"Homer is knocking em' out of the park left and right
lately! His first official release 'ESP Arcana' is
freakishly good…you guys are going to love it as much as I
do, guaranteed."
Jerome Finley (Las Vegas, NV)
"I always like to listen to H Arcana. A lot of deep thinking
and inspiration."
Lior Manor, (Israel)
"H. Arcana has created an interesting object lesson for all
of us using only 10 ESP cards. Each effect playing out as
intuitively uncanny, and each gradually more and more
impressive. You should learn from this guy. Definitely
recommended."
Alain Nu (Washington, DC)
"H.Arcana is brilliant. Respect and guard his work. You will
be very successful and your journey will be a very rewarding
one …"
Neal Scryer (New York, New York)
"He's great, loaded with knowledge and a practical thinker!"
Peter Turner (Bradford, West Yorkshire, UK)
The "Jheff's Judgment" column below is a brief summary of a longer, more detailed version. For the longer and more in-depth version, and to get news and information about other mentalism products, please visit the Marketplace of the Mind Forum or subscribe to the free newsletter.