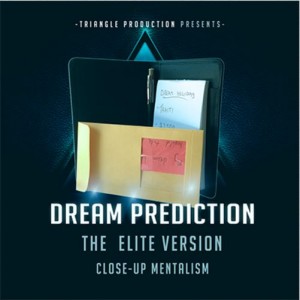 DREAM PREDICTION ELITE
$99.95
This is a non-featured item. For more information, please visit the Marketplace of the Mind Forum, a subscription-based site that contains more detailed reviews, news, and other information about mentalism and mentalism products.

The Blurb
You place an envelope containing a prediction in full view of your audience. A spectator can hold or place the prediction on a table. (The envelope containing the prediction has a clear window so the prediction can be seen in the envelope the ENTIRE TIME!)
Next, you ask your spectators to name ANYTHING! And this means ANYTHING. ( Lottery numbers, Names, Destinations, Dreams or anything that suits your presentation)
Upon opening the envelope the spectator reads the prediction out loud and EVERYTHING matches 100%.
The prediction is given to the spectator to keep as a reminder of the moment you predicted their deepest thoughts…
EASY TO DO!
NO STOOGES!
NO PRE-SHOW!
NO FORCING!
100% RELIABLE!
100% ACCURACY!
CUSTOM MADE GIMMICKS!
CUSTOM MADE NOTE PAD!
INSTRUCTIUONAL DVD!
DVD – Includes: Handling, Routines, In-Depth Ideas & Live Performances!
Includes everything you need right out of the box!
*Gimmicked envelopes have been designed by Mark Parker & Paul Romhany & produced by Alan Wong.
What People are saying…
"DREAM PREDICTION ELITE is the realization of true amazement in your audiences reactions. This is PURE GOLD – A REAL WINNER"
– Banachek
"This is the ONLY Confabulation set-up I use in close-up situations – the quality of the envelopes and the wallet is top notch. Highly recommended!!"
– Keith Barry
"This is by far one of the strongest open prediction routines I have seen. I never leave home without DREAM PREDICTION ELITE. The best version of any confabulation style routine for walk-about or parlor performances."
– Neal Scryer
The "Jheff's Judgment" column below is a brief summary of a longer, more detailed version. For the longer and more in-depth version, and to get news and information about other mentalism products, please visit the Marketplace of the Mind Forum or subscribe to the free newsletter.