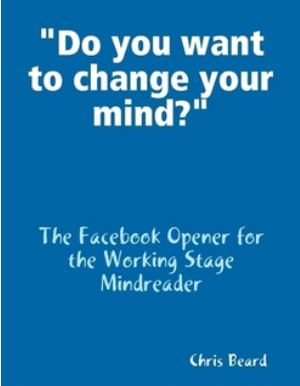 The following item is not sold or distributed by the Marketplace of the Mind. It is available only through the link below ("Link to Site").
DO YOU WANT TO CHANGE YOUR MIND?
£15
This is a non-featured item. For more information, please visit the Marketplace of the Mind Forum, a subscription-based site that contains more detailed reviews, news, and other information about mentalism and mentalism products.

The Blurb
Imagine asking somebody in the audience to change their mind
as many times as they wish, before they name a Facebook
status. They name one. After being invited onstage they are
given one last chance to change their mind. They do. Yet
still, after all this, their decision matches your
prediction. Nobody touches the prediction. The effect is
completely hands off – nobody needs to be onstage at the
time the prediction is opened.
The "Jheff's Judgment" column below is a brief summary of a longer, more detailed version. For the longer and more in-depth version, and to get news and information about other mentalism products, please visit the Marketplace of the Mind Forum or subscribe to the free newsletter.