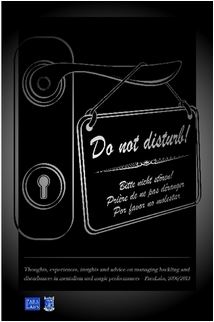 The following item is not sold or distributed by the Marketplace of the Mind. It is available only through the link below ("Link to Site").
DO NOT DISTURB – THOUGHTS ON HECKLING
€58
This is a non-featured item. For more information, please visit the Marketplace of the Mind Forum, a subscription-based site that contains more detailed reviews, news, and other information about mentalism and mentalism products.

The Blurb
Thoughts, experiences, insights and advice on managing heckling in mentalism and magic performances. Advice that will open your eyes before you fall flat on your face. And even if you stumble we'll help you to get an idea of the possible reasons behind it in order to stop it from happening again.
With contributions by Jon Allen, Banachek, David Berglas, Dr. Bill, Bob Cassidy, Paul Daniels, Jan Forster, Nicolai Friedrich, Paul Harris, Whit Haydn, Axel Hecklau, Christian Knudsen, Dr. Todd Landman, Simon Lovell, Max Maven, Richard Osterlind, Neal Scryer, Florian Severin, Jim Sisti, David Thiel, Paul Vigil, Michael Vincent and Richard Webster.
From the foreword by Eugene Burger: "This is an important book because the authors, Rainer Mees and Thomas Heine, have approached disturbances during a performance with intelligence and clear thinking. … Be prepared for an exciting journey!"
The "Jheff's Judgment" column below is a brief summary of a longer, more detailed version. For the longer and more in-depth version, and to get news and information about other mentalism products, please visit the Marketplace of the Mind Forum or subscribe to the free newsletter.