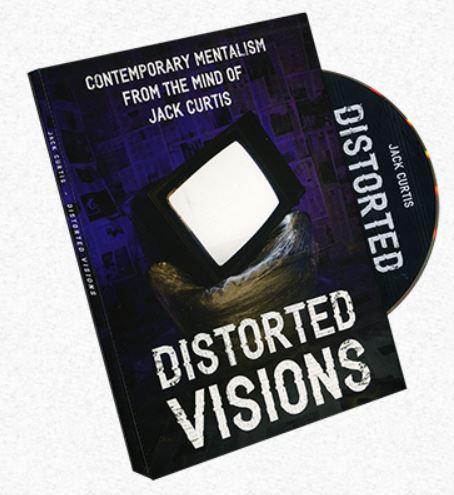 DISTORTED VISIONS
$37
This is a non-featured item. For more information, please visit the Marketplace of the Mind Forum, a subscription-based site that contains more detailed reviews, news, and other information about mentalism and mentalism products.

The Blurb
The 1914 proudly presents DISTORTED VISIONS an instructional DVD by JACK CURTIS – author of the critically acclaimed underground mentalism book DISTORTED THOUGHTS. On this DVD, Jack, joined by professional mentalist LOOCH, teaches six incredibly strong, instantly resetting, real-world, close-up mentalism effects; designed and structured for high impact results.
AMNESIC TRANSPO
The mentalist's answer to the two card transposition using business cards and a pen. A baffling demonstration of confusion and mild amnesia.
FLORAL DESTINY
A philosophical exploration of free will and determinism using flowers and playing cards.
EXTRA SUBLIMINAL PERSUASION
After learning about the psychic experiments of Dr. Rhine, your participant is left surprised to find that stuck to the back of all five ESP cards are stickers which correctly predict the outcome of their actions.
BLANK 2.0
A multi layered demonstration of apparent subliminal influence using a freely named number.
LAW OF ATTRACTION
Using nothing more than a stack of business cards and a pen, you are not only able to correctly identify the name of the family member your participant is thinking of, but also present an incredible demonstration of "Synchronicity".
SILVER LINING
The mentalist uses two coins to challenge a spectator to a battle of the minds. After an apparently disappointing ending, the mentalist bounces back with a surprise jaw-dropping finalé.
BONUS
A thought-provoking essay about close-up approach techniques, an essay on the topic of predictions, a very funny blooper reel and a short video discussion that will dramatically change the way you think about playing cards.
The "Jheff's Judgment" column below is a brief summary of a longer, more detailed version. For the longer and more in-depth version, and to get news and information about other mentalism products, please visit the Marketplace of the Mind Forum or subscribe to the free newsletter.