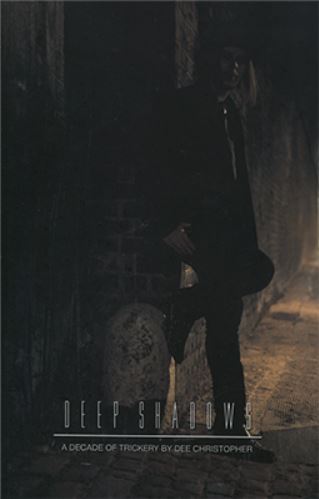 DEEP SHADOWS
$68
(List Price: $75)
This is a non-featured item. For more information, please visit the Marketplace of the Mind Forum, a subscription-based site that contains more detailed reviews, news, and other information about mentalism and mentalism products.

The Blurb
Deep Shadows is a collection of techniques, tools and effects discovered by mentalist and psychokinetic expert Dee Christopher over 10 years of study, creativity and performance as a professional magician and mind reader.Featuring a foreword by Daniel Madison and an incredible expanse of magic, mental-ism, routines and utilities spread across more than 250 pages, Deep Shadows is a rare insight into the mind and repertoire of a working mentalist. Within the leaves of this tome, you will learn the following: As well as all of this amazing material, Dee divulges his thinking on many different subjects including how to learn verbal deception, how to structure your acts, and many other subjects vital to the performing mentalist.Whether you're just branching out into mental-ism, or you're a seasoned mentalist looking for a greater insight into your craft, you'll find what you need in Deep Shadows.
Full Contents:Devices & Gimmicks
BROKEN WINGS: A gimmicked pad with which you can force information, peek information, create automatic writing effects and much, MUCH more! (Just google for the reviews.)
LEGION: An expandable concept with cards that needs to be set up only once and can create completely hands off forces, hallucination effects and more!
CRONOS: A full locked box prediction system that also allows you to perform an incredible feat of psychokinesis!
CAST: An amazing book test gimmick that fits in your wallet and is completely invisible in plain sight!
inDeck:;A brilliant billet index that can be built into a deck of cards, or a stack of index cards, depending on your preference. Very easy to use, very easy to expand.
SIX:SIX: A unique forcing technique based on a very old magic effect.
EX: Prove that you know what item would be named before it is.
Tricks & Techniques
5020
LOKI
TURNOVER 23
SYLLACODE
MORSE
SYN
MIRROR
MACHINE
THE NEW BLACK
TURNOVER BEND
DICHOTOMY
SEVENS
ASHES
IMPRINT
TECHNOKINESIS
THE TOUCH
SCAR
EPOCH
BLINDED
DREAMCATCHER
VANITY
SCHRODINGER'S DECK
THE DEVIL'S KEY
FALLING COINS
SIGHT THREE
INSANEWAVE
RUSH
ISO
CURRENCY
AFTER-DARK
PLASTIC
ESSAYS
Linguistic Bending
The "Jheff's Judgment" column below is a brief summary of a longer, more detailed version. For the longer and more in-depth version, and to get news and information about other mentalism products, please visit the Marketplace of the Mind Forum or subscribe to the free newsletter.