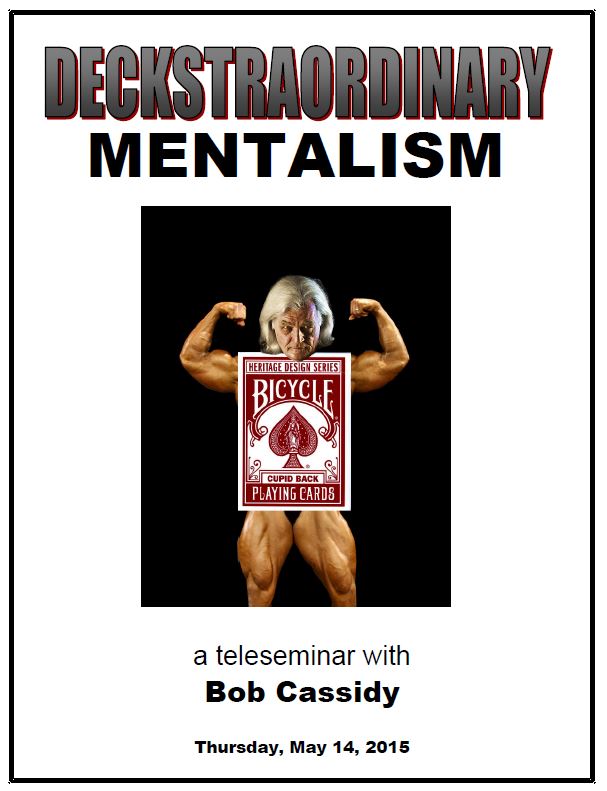 Featured Recommended Product
DECKSTRAORDINARY MENTALISM
$29.97

The Blurb
DECKSTRAORDINARY MENTALISM
A Teleseminar with Bob Cassidy
Hosted by Jheff
One of the most controversial topics in mentalism is the use of playing cards.  All of the legends in mentalism used or use playing cards – Annemann, Dunninger, Fogel, Berglas, Osterlind, Maven, just to name a few.
In DECKSTRAORDINARY MENTALISM, Bob Cassidy, a living legend of mentalism himself, will describe, discuss, and give in-depth explanations and presentations of some of the most powerful effects in both his close-up and stage repertoires.  He will explore how and when to properly use playing cards to enable you to perform some of the most amazing effects possible in the genre.
Featuring:
DOCTOR CROW'S DECK OF FORTUNES – A fascinating new approach to answering questions merely thought of by the sitter.  The perfect close-up Q&A presentation.
A THOROUGH DISCUSSION OF BOB'S FAVORITE GAFFED DECKS AND STACKS IN MENTALISM – These include several Five Star variations and applications, routines with the MeneTekel and Svengali decks, refined pumping techniques, as well as the most direct handlings of forcing and other specialty decks.
THE RING STACK – Bob's highly underrated memorized stack and possibly one of the oddest, easiest, and most practical memorized stacks.  Variants of other stacks will also be discussed.
ASSORTED BRAIN BUSTERS WITH CARDS – Bob will also explain his handlings of some of the greatest Brain Busters with cards devised, including presentations involving sealed packs of cards apparently never seen by the performer prior to the program.
Most of the effects require only minimal, if any, sleight of hand and rely primarily on subtlety and psychology.
Attendees will receive PDF notes prior to the teleseminar and post-seminar notes after its conclusion covering answers to questions posed by attendees during the lecture as well as elaborations where needed or requested.
The PDF notes for the teleseminar will be available to purchasers on May 8.  As a thank you to those who pre-order before that time you'll receive a special copy of the PDF notes.  See below…
BONUS: Order by Thursday, May 7, and receive a bonus routine that will not be discussed in the seminar.  This powerful routine can be used as a complete act with a unique deck of cards that you probably already have in your drawer.  It will be exclusive only to those who order by May 7.
If you order before the start of the teleseminar, the price is $24.97.  Afterwards, the price will be the usual $29.97 for one of Bob's teleseminars.
DATE: THURSDAY, MAY 21 5:00 P.M. (PST)
HOSTED BY JHEFF
IMPORTANT: This teleseminar is audio only.  Access is available through your Internet connection or by phone. You will receive a series of instructions on how to access the telesminar beginning 24 hours before the teleseminar begins.  For those who cannot participate in the live call-in event, a complete MP3 recording will be available for download shortly after its conclusion.
Since questions from participants are welcome and invited, the number of attendees to the live event will be limited, so it is important to sign up early to avoid disappointment.
BONUS PACKAGE:  Save even more by purchasing Bob's upcoming new book, DECONSTRUCTING MENTALISM.  This will be an exclusive e-book available only through Marketplace of the Mind.  In it, Bob will be exploring the men and women who pioneered mentalism, examining their routines, and re-imagining those routines for the 21st Century.  It promises to be one of Bob's best works yet.  This e-book will be released very soon and it will NOT be available for pre-order separately.  But you can buy this as a package with the DECKSTRAORDINARY MENTALISM teleseminar and save.