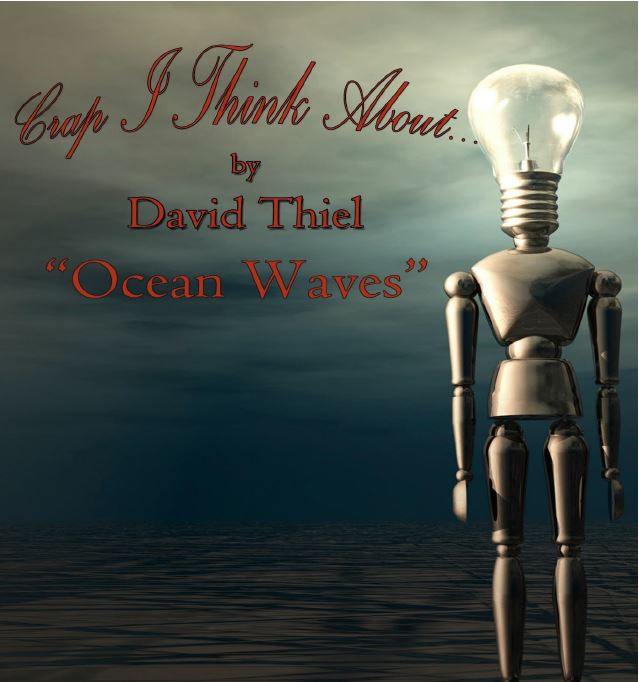 The following item is not sold or distributed by the Marketplace of the Mind. It is available only through the link below ("Link to Site").
CRAP I THINK ABOUT: OCEAN WAVES EDITION
$35

The Blurb
"I think in stories…and when I share the things I've learned, it seems like every single thing I want to talk about grew out of something that happened to me as I performed…or sat down and really thought about mentalism," says David Thiel.
"I love books loaded with great routines as much as anyone. But there are already a pile of them out there. That's why this isn't one of them. While there are some effects in C.I.T.A., most of the book deals with the nut and bolt realities of performing mentalism…and performing it more effectively.
"How do you choose the right volunteer for the right effect? How do you line yourself up for media interviews — and how do you REALLY make them effective? Is there a way to maximize the book tests? How can I be a different performer, set apart from the rest? How can I get started with cold reading?"
There are 31 chapters in Cr@p I Think About. Over 170 pages packed with information, stories from both sides of the stage, some short fiction about mentalists and mentalism and chapter after chapter of real life lessons from someone who reads minds for a living. (There are also three — maybe four — routines.)
Essentially? It's a bunch of cr@p that one of the most engaging minds in mentalism thinks about.
Full time road warrior, part-time pro…or someone who performs mentalism for the love of it — there's some very good cr@p in this book for everyone.
"David: CITA is full of priceless information that can only be shared by someone with your level of experience and very particular skill set! That some of this information is shared and/or reinforced via the narrative sections is a strength. As is how clearly apparent it is that CITA is written from the heart. I enjoyed the mix of styles and themes in CITA. This is a highly personal book and I think it is the sum total that best conveys David's perspective and experience as a mentalist.
This book is 31 Chapters and 171 pages long.
"Over the years, David has shared many of his ideas and observations with me, such as the ones you will be reading here. I have always been appreciative of David's complete frankness. It is because David is not afraid to share his innermost feelings with us that his words have so much force.
"There is much to be learned here and much to be considered. I, personally, would rather have these essays than a hundred books of mentalism 'secrets.'"
From the Foreword by Richard Osterlind, Corporate Mentalist
"David Thiel is one of the best kept secrets in mentalism. He has a brilliant mind that is constantly working on transforming mentalism into an art that truly connects with people. This book gives us all an opportunity to peek in on some of those remarkable ideas of his, enjoy great stories and innovative effects. I loved every page. That he is an outstanding writer is a great bonus. Cr@p I Think About isn't cr@p at all. It is a true treasure."
Neal Scryer, Author, Reader and Performer
"In writing CITA, David has provided us with a road map of HOW to think deeply about mentalism. Via his openness and vulnerability on the page, along with his skill as a writer, David has created a work that I think will be long valued by performers."
Dr. Bill Cushman, Mentalist and Author
The "Jheff's Judgment" column below is a brief summary of a longer, more detailed version. For the longer and more in-depth version, and to get news and information about other mentalism products, please visit the Marketplace of the Mind Forum or subscribe to the free newsletter.