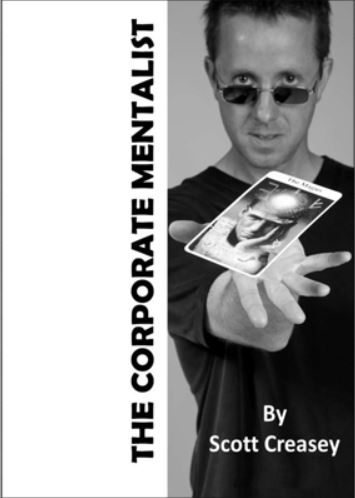 THE CORPORATE MENTALIST
$30

The Blurb
A full corporate presentation in your pocket.
This lecture (or teach in if your prefer) is a change from the usual show a trick then explain it format Scott has used up until now, it is in fact his corporate lecture, performed, explained and laid down in print. In the introduction Scott writes:
This presentation is a reality, it was honed and perfected on various corporate sales decks within the cut throat world of the time share industry which is still thriving on the Costa Del Sol, it has also been presented at a number of other corporate events in the UK and is a commercial no nonsense talk/lecture/presentation aimed at the professional corporate market.
You will find no fancy props, no scantily clad assistants and no finger flinging, there are no pipe dreams and no pie in the sky unworkable ideas. All you will find here is a solid 30 – 45 minute performance of mentalism which I have used for the last couple of years to entertain inform and empower corporate audiences.
Better still, it fits in your pocket.
The "Jheff's Judgment" column below is a brief summary of a longer, more detailed version. For the longer and more in-depth version, and to get news and information about other mentalism products, please visit the Marketplace of the Mind Forum or subscribe to the free newsletter.