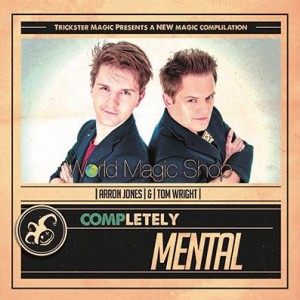 COMPLETELY MENTAL
$34
This is a non-featured item. For more information, please visit the Marketplace of the Mind Forum, a subscription-based site that contains more detailed reviews, news, and other information about mentalism and mentalism products.

The Blurb
Seven Crazy Tricks
Two Borderline Insane Magicians
One Completely Mental DVD
Super Mint – Every time, know which spectator is holding the 'odd' mint. A self working hands off miracle.
Serial – Accurately name the first four digits of the serial number on a spectator's bill that you've never seen.
Parallel – A matching ESP style effect that leaves your spectator thinking they read your mind.
OXO – Three reveals on one note, OXO is a modern routine for the classic Tic Tac Toe prediction.
Name Killer – A signed card transposition routine, visual, commercial and a little bit ambitious.
Hit the club Jack – A story deck like never before, a hilarious plot with even funnier gags
Stack – Know the location of a cross drawn on five face down coins.
The "Jheff's Judgment" column below is a brief summary of a longer, more detailed version. For the longer and more in-depth version, and to get news and information about other mentalism products, please visit the Marketplace of the Mind Forum or subscribe to the free newsletter.