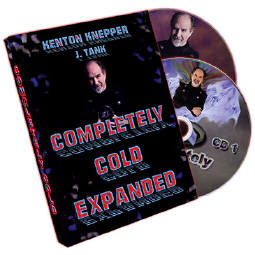 The following item is not sold or distributed by the Marketplace of the Mind. It is available only through the link below ("Link to Site").
COMPLETELY COLD EXPANDED
$40
This is a non-featured item. For more information, please visit the Marketplace of the Mind Forum, a subscription-based site that contains more detailed reviews, news, and other information about mentalism and mentalism products.

The Blurb
TWO CD Set!
The classic reference for making cold readers in under 24 hours just got pushed to the next level! On two CDs you will get all the inside work so you can begin to do readings virtually overnight.
NO memorizing. NO props. Get this material in your head and be ready to go to work as a reader tomorrow.
This new version contains the entire original material as an audio book, plus an application for use with a mental card forcing equivoque, Kenton's answer to those afraid to doing readings and more. Then a second CD teaches you by example as you listen to "Cold" in action in real life readings situations. It's the missing piece everyone has been waiting to have – here at last.
The Original "Completely Cold" has launched the careers of many readers, and literally taught mentalists overnight how to sneak readings into their everyday conversations to gain rapport.
See the original "Completely Cold" product (below) for details if you are not yet aware of the power of "Completely Cold."
We never thought Kenton could make "Cold" better than it was. Now he has… hear it for yourself with all the extras at last!
Listen today, perform readings tomorrow.
CD 1 :
*The Original Completely Cold in Audio Book Form
*NEW WORK including how to begin a reading, what else to
say, other words and category options, what you already know
and more.
*Over 60 minutes in length
CD 2 – Live Readings and More:
*Track 1 – Opening Remarks
*Track 2 – Donna's Reading
*Track 3 – Dave's Reading
*Track 4 – Reactions from Donna and Dave
*Track 5 – Kathryn's Reading
*Track 6 – Notes About Kathryn's Reading
*Track 7 – Kathryn's Reactions To Her Reading
*Track 8 – Completely Cold As Card Equivoque
*Track 9 – Live Cold Card Force
*Track 10 – Holly's Extreme Reading
*Track 11 – Ending Comments, Fear and Action
* CD 2 is almost 60 Minutes in length.
The "Jheff's Judgment" column below is a brief summary of a longer, more detailed version. For the longer and more in-depth version, and to get news and information about other mentalism products, please visit the Marketplace of the Mind Forum or subscribe to the free newsletter.