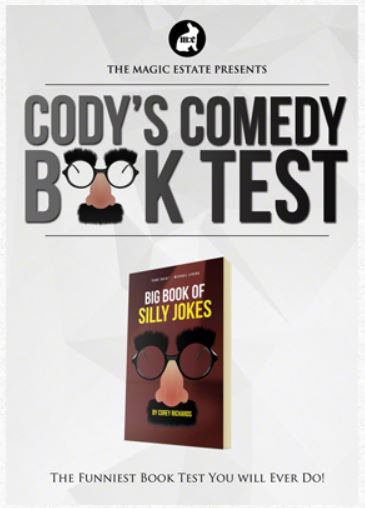 CODY'S COMEDY BOOK TEST
$64.95
This is a non-featured item. For more information, please visit the Marketplace of the Mind Forum, a subscription-based site that contains more detailed reviews, news, and other information about mentalism and mentalism products.

The Blurb
Right out of Cody Fisher's corporate Stand Up act. This is simply the funniest and most effective comedy book test you can do. Three killer phases with twists, turns, hysterical wordplay and an unexpected punch at the finish. This is the only book test you will ever need or want to do for your audiences. Packs small, plays massive, and perfect for your next show, this is Cody's Comedy Book Test!
– 10 min of solid impressive mind reading with a killer ending.
– Customize the routine with your own books.
– Learn what ungimmicked books Cody uses and why for maximum entertainment value.
– Can be performed as one, two, or three phases.
– Packs small, plays massive and easy to do.
– Package includes DVD with live performances / detailed explanation and gimmicked book.
The "Jheff's Judgment" column below is a brief summary of a longer, more detailed version. For the longer and more in-depth version, and to get news and information about other mentalism products, please visit the Marketplace of the Mind Forum or subscribe to the free newsletter.