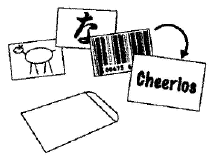 CEREAL KILLER
$32.00
(List Price: $35.00)
This is a non-featured item. For more information, please visit the Marketplace of the Mind Forum, a subscription-based site that contains more detailed reviews, news, and other information about mentalism and mentalism products.

The Blurb
Everyone that sees this performed wants one.  It's that good- simple, funny, and compact professional routine.  A fantastic opener for any stand-up show.  Magician says he has three predictions inside an envelope.  When asked for an animal, a letter, and a grocery product, the three predictions are revealed to be hilarious gag predictions until the last one, a UPC bar code, is turned over to reveal the correct product named.  Guaranteed laughs to start off the show with a killer magic ending.  You get everything to do the routine immediately.  Very decept5ive routine and so very easy to do.  Fools many magicians because of its simplicity.  No forcing or secret writing of any kind is used — just a good solid routine along with a special envelope makes for a killer effect!
The "Jheff's Judgment" column below is a brief summary of a longer, more detailed version. For the longer and more in-depth version, and to get news and information about other mentalism products, please visit the Marketplace of the Mind Forum or subscribe to the free newsletter.