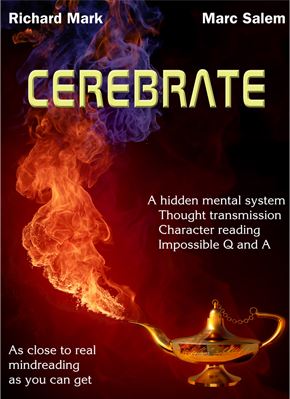 CEREBRATE
$65
This is a non-featured item. For more information, please visit the Marketplace of the Mind Forum, a subscription-based site that contains more detailed reviews, news, and other information about mentalism and mentalism products.

The Blurb
Do you want to provide powerful entertainment and astound
audiences with your mentalism? Become a Mindreading
Phenomena using the incredible CEREBRATE!
Close up, platform or stage this secret system provides a
mystifying experience as close to real mindreading as you
can get. It can be customized to your performance persona
and performed before one person or a filled auditorium.
It has been tested in performance and allows you to read
thoughts, perform a book test with any book, a telepathic
character reading and perform a Q & A in real time with
nothing written or prearranged without the use of hidden
gimmicks. All the details are contained in this 35 page 8×11
book, practice laminates, video downloads and additional
templates.
IT IS ALL IN THE MIND!
Here is what the experts say about CEREBRATE:
"Cerebrate is a diabolical enhancement of a classic
principle. Practical and deceptive in application"
– Ken Weber
"From the minds of two of the most creative guys in
mentalism, Richard Mark and Marc Salem, Cerebrate is a well
crafted system that works perfectly in completely impromptu
situations and is equally suitable for stage and platform
work. There's absolutely no doubt that I will make
productive use of the system in my own shows – and I predict
that serious mentalists everywhere will find themselves
doing the same. Highly recommended."
– Bob Cassidy
The "Jheff's Judgment" column below is a brief summary of a longer, more detailed version. For the longer and more in-depth version, and to get news and information about other mentalism products, please visit the Marketplace of the Mind Forum or subscribe to the free newsletter.