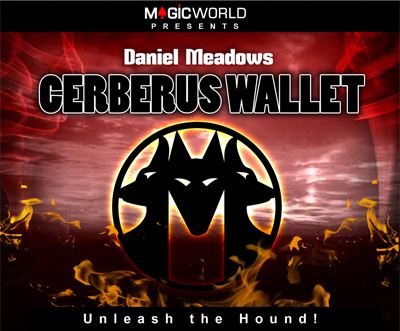 CERBERUS WALLET
$139.95
This is a non-featured item. For more information, please visit the Marketplace of the Mind Forum, a subscription-based site that contains more detailed reviews, news, and other information about mentalism and mentalism products.

The Blurb
Cerberus has everything the modern Mentalist needs packed into a small everyday leather wallet, only a little bigger than a deck of cards. If you're still looking for an everyday wallet that incorporates a great peek & load system, holds your business cards and will actually fit in your front pocket easily, then you've finally found it! Never get caught unawares again. With Cerberus at your side – just 'Unleash the Hound'!
Named after the mythical three-headed guardian of the underworld, the Cerberus Wallet is a descendant of a Jaks Wallet, but adapted and upgraded so it can be used like an everyday store-bought wallet. The best part? The Cerberus Wallet is a monster by name, but not by nature. It actually fits in your front trouser pocket!
What features does the Cerberus Wallet have?
Bills and notes can be carried like a normal wallet (All US, UK & Euro paper money fit)
5 credit card pockets & 2 utility pockets
Driver's License window
Internal & External Peek System
Out-to-lunch System
8 Card Index System (Business card sized)
Card to Wallet: Load & Steal System (Business card or folded playing card)
Use as platform for secret writing
What does the wallet look like?
Built from the ground up in high quality black leather, this feature-packed tri-fold wallet is a real 'all-in-one' utility item, just without the usual size.
How do I learn what to do with the Cerberus Wallet?
On the accompanying DVD, Daniel Meadows shows that Cerberus' bite more than matches its bark as he walks you through all the features of the wallet, runs through some example routines, and suggests further reading for some great Cerberus-compatible effects!
The "Jheff's Judgment" column below is a brief summary of a longer, more detailed version. For the longer and more in-depth version, and to get news and information about other mentalism products, please visit the Marketplace of the Mind Forum or subscribe to the free newsletter.