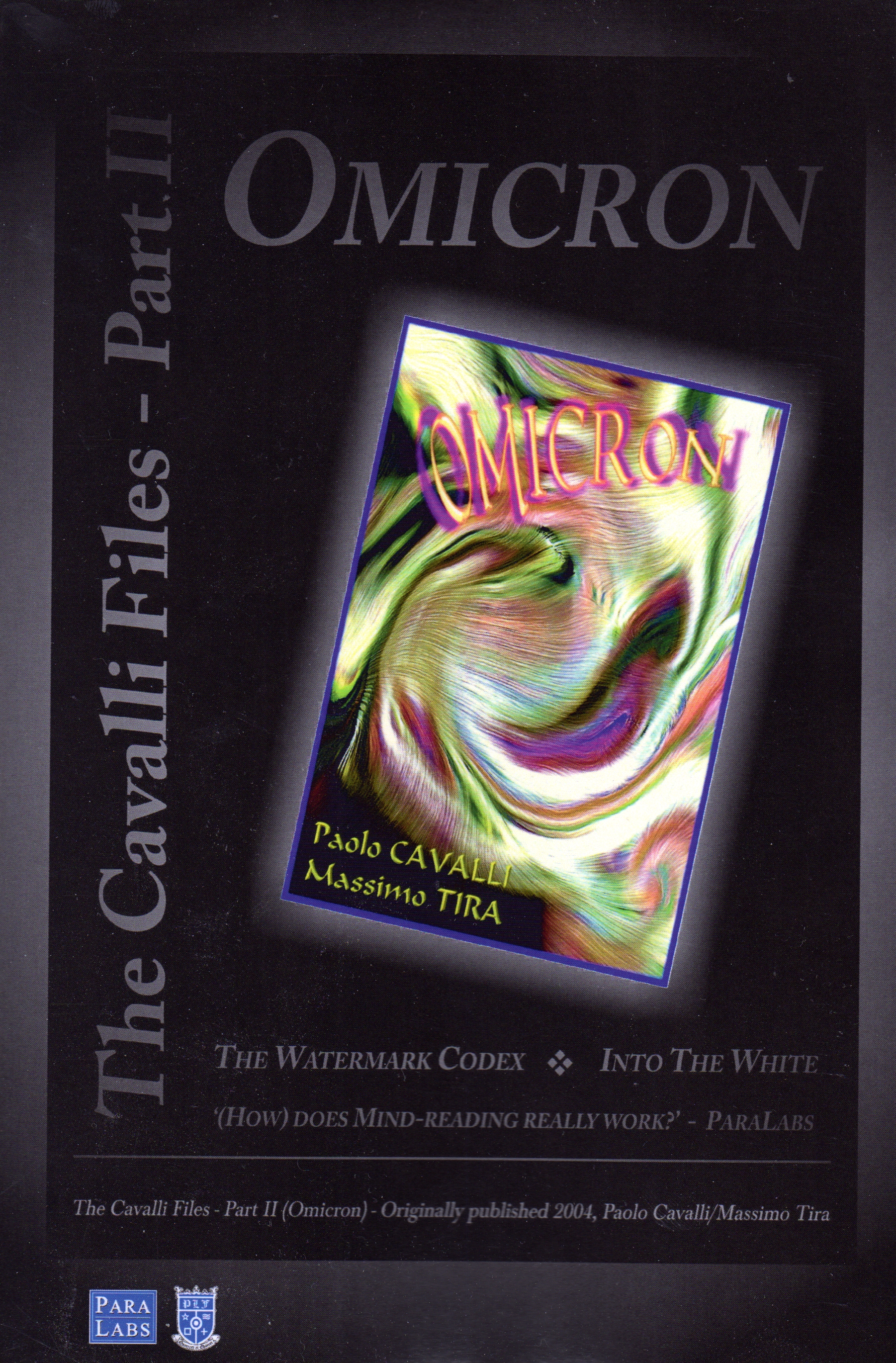 The following item is not sold or distributed by the Marketplace of the Mind. It is available only through the link below ("Link to Site").
THE CAVALLI FILES II: OMICRON
$50
This is a non-featured item. For more information, please visit the Marketplace of the Mind Forum, a subscription-based site that contains more detailed reviews, news, and other information about mentalism and mentalism products.

The Blurb
Actually this volume contains more than Paolo's 2004
publication of the same name – in fact, this book contains
four different works PLUS a foreword by John Riggs.
The contents of the name giving work 'Omicron' are the
following:
Chairvelopes Wook
Equinox
PKoin
Miscellanea (Remote Viewing of Some Kind, You Do As I Do
Book Test, Arcanum Nine Point Zero, In-Visible In-Sight,
Deatharot)
Shades of Upsilon  (Patetogy, Psychometrack, Pendulumix)
In addition to Omicron the second volume of the Cavalli
Files will contain Paolo's brilliant 'Watermark Codex' – an
ingenious method of creating invisible markings (literally
invisible!) that become visible only if you 'activate' them.
Think about the possible applications a technique like this:
You can mark envelopes for example in a way that there is
literally nothing to see – even if one inspects them
thoroughly.  Only if you – you, as the all knowing performer
– want it to … the marking becomes visible – to you only!
The third part of this book is Paolo's 'Into the White'.  He
himself described this work as "A routined blend of
revelations you can use with the info you get with any means
(Peek, Tear, Clipboard, Notepad, etc.) in order to
apparently tell so much with so little…" – and yes, this
composition makes LOTS of merely nothing.
And finally the book closes with an essay of ours (Rainer
and me, Thomas, of ParaLabs).  '(How) Does Mind-reading
really work?' are deliberations about neuropsychological
aspects in the context of mind reading. "Mind reading – the
Real Work" if you like, …
The "Jheff's Judgment" column below is a brief summary of a longer, more detailed version. For the longer and more in-depth version, and to get news and information about other mentalism products, please visit the Marketplace of the Mind Forum or subscribe to the free newsletter.