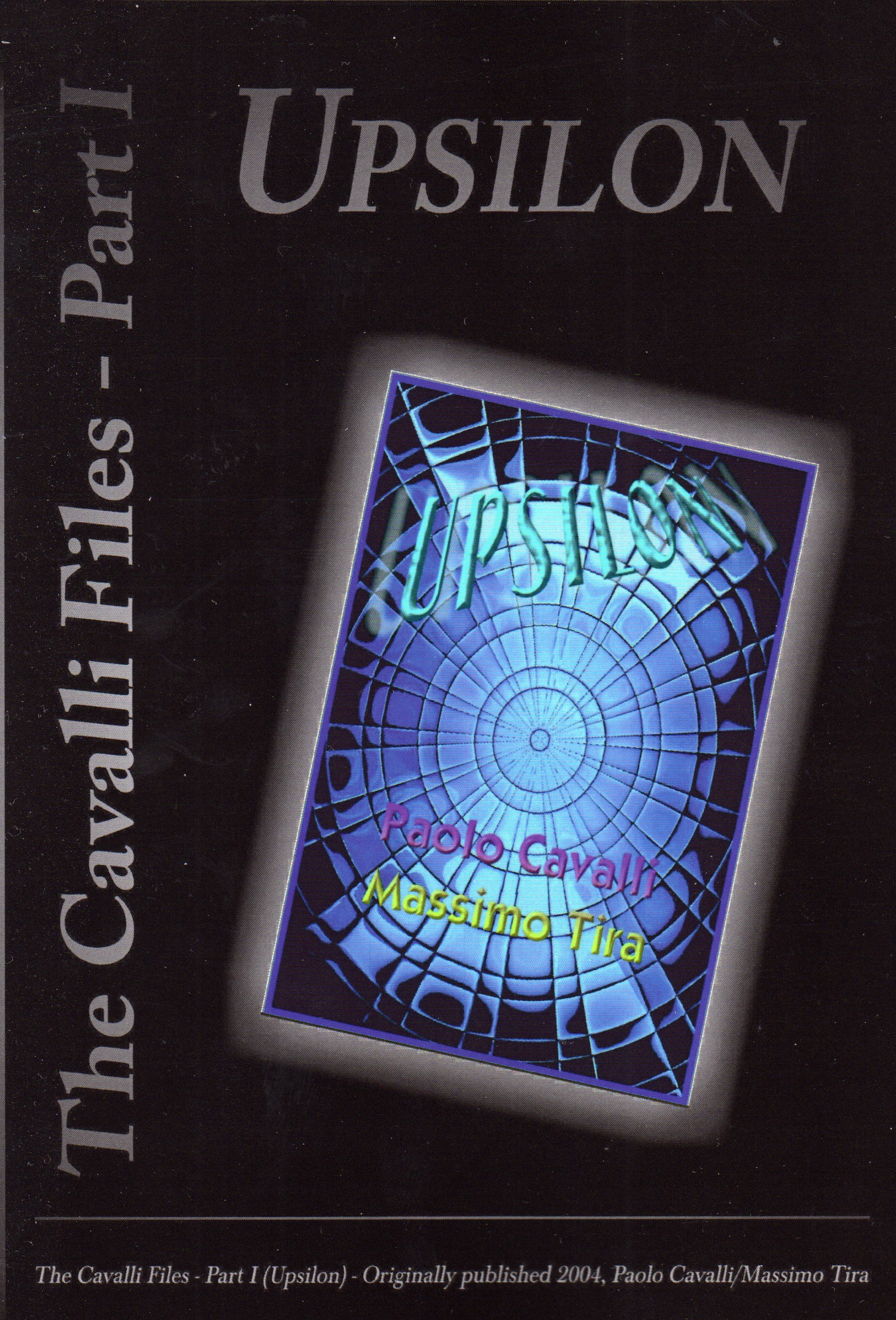 The following item is not sold or distributed by the Marketplace of the Mind. It is available only through the link below ("Link to Site").
THE CAVALLI FILES I: UPSILON
$50
This is a non-featured item. For more information, please visit the Marketplace of the Mind Forum, a subscription-based site that contains more detailed reviews, news, and other information about mentalism and mentalism products.

The Blurb
Paolo Cavalli's initial work – out of print for years,
available again NOW!
Contents:
Radarama
Psychometrack
Patetogy
Kormonition
Booplication
Prophetriter
Twicerpiece
Trisoteric
Pendulumix
Miscellanea
Acidus Novus Streamlined Description
"I found Radarama to be very interesting and thought
stimulating. It is really well thought out and I appreciate
it very much. I was quite impressed with your variation on
the PATEO process. I like the ideas in the book test and the
misdirection on Prophetic Dreams (Prophetriter) is
excellent!"
– Richard Osterlind
"I like your reasoning in your book test presentation,
especially the 'Does that word mean something special…'
part. Good thinking! Your Psychometrack effect is excellent.
However knowing how little effort many people actually
invest in their craft, that routine is likely to remain
'hidden in print' for all but a dedicated few."
– Lee Earle
"I thought the book was a great idea generator. You
definitely put your own sneaky twist on the material you
create. Keep it up. Mentalists can use creativity such as
yours. Even us old guys."
– Larry Becker
"I very very much enjoyed the book and it has left me with
ideas spinning in my head …"
– Luke Jermay
"A GREAT book. Just the magazine test or the handling on the
PATEO force worth the entire price of the manuscript. The
idea for the duplication drawing is beautiful too. Every
routine has something …"
-Enrique Enriquez
"In my opinion, each routine in this book is a little
masterpiece, crafted in every detail, limiting to the bare
essential the need for sleight of hands and maintaining the
performance free from empty moments."
– Tony Binarelli
The "Jheff's Judgment" column below is a brief summary of a longer, more detailed version. For the longer and more in-depth version, and to get news and information about other mentalism products, please visit the Marketplace of the Mind Forum or subscribe to the free newsletter.