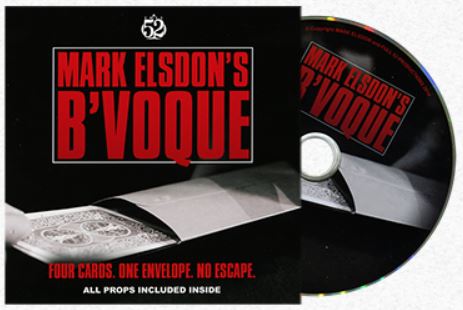 B'VOQUE
$18
(List Price: $19.95)
This is a non-featured item. For more information, please visit the Marketplace of the Mind Forum, a subscription-based site that contains more detailed reviews, news, and other information about mentalism and mentalism products.

The Blurb
Mark Elsdon finally releases his incredible 'Four Card Brainwave' effect! Previously shared only with those on his exclusive one day courses, this super-strong version of Max Maven's seminal plot can now be yours!
Effect:
You ask a spectator to imagine four cards in an envelope. They make various choices – every step of the way, they are in control of what happens to the four cards – and amazingly, their chosen card is the only one reversed in the envelope! But there's more! You then reveal that the named card also has a different colored back to the other three! There's still more! You then destroy their minds completely by showing that the other three cards are actually BLANK!
The reactions are CRAZY!
Perfect 'carry everywhere' mentalism!
No gimmicks!
Easy to do!
100% examinable!
The "Jheff's Judgment" column below is a brief summary of a longer, more detailed version. For the longer and more in-depth version, and to get news and information about other mentalism products, please visit the Marketplace of the Mind Forum or subscribe to the free newsletter.