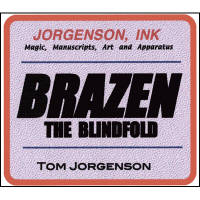 BRAZEN BLINDFOLD
$18.00
(List Price: $20.00)
This is a non-featured item. For more information, please visit the Marketplace of the Mind Forum, a subscription-based site that contains more detailed reviews, news, and other information about mentalism and mentalism products.

The Blurb
Previously, you have been bending a bit, and have collected the parts and pieces of forks and spoons in a cutlery tray, box or some such. Later on during the set, you are going to be blindfolded for an experiment. When that time comes, you use two of the broken off tablespoon bowls from your spoon bag/cutlery tray, box or etc. You and a spectator tear off strips of black electrical tape, cloth adhesive medical tape (or even use large Band-Aids), and tape a spoon bowl tightly over each of your eye sockets. Small strips may even seal the bottom and top of each spoon bowl, precluding any light of sight.
And yet you are able to have almost perfect vision.
The "Jheff's Judgment" column below is a brief summary of a longer, more detailed version. For the longer and more in-depth version, and to get news and information about other mentalism products, please visit the Marketplace of the Mind Forum or subscribe to the free newsletter.