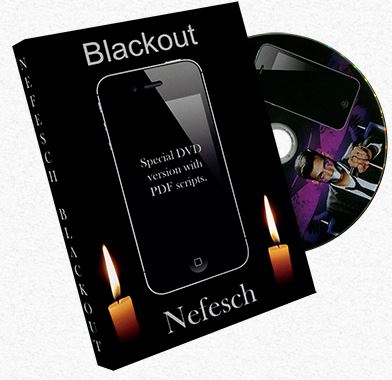 BLACKOUT
$15
(List Price: $16.95)
This is a non-featured item. For more information, please visit the Marketplace of the Mind Forum, a subscription-based site that contains more detailed reviews, news, and other information about mentalism and mentalism products.

The Blurb
Blackout, is a technique that will allow you to make any revelation through a spectator's phone, the revelation is made by any friend from the spectator that he chooses to call, the spectator's friend can be miles away, you have never met any of them and yet the revelation is accurate.
The description is this simple:
1) You ask a spectator to think of anything they want: a playing card, the name of a person, a word, etc. You can use it as a remote view type of effect, you can perform any routine you want, a book test, a magazing test, a newspaper test, etc.
2) You announce to your spectator that you will NOT reveal his thought; his thought will be reveal by any of the spectator's friend instead.
3) You ask your spectator to take his own phone out of his pocket and he is asked to call ANY of his friends.
4) Once the call has gone through you ask your spectator to tell his friend that a mentalist wants to speak to him.
5) You speak to your spectator's friend in front of everybody; so all the audience can hear the full conversation in which you ask him to reveal aloud the spectator's thought. If you want, you can have the full conversation on speaker phone the whole time.
6) The spectator's friend reveals the spectator's thought PERFECTLY.
No Preshow
No Stooges
The spectator and also the spectator's friend will have no idea how you did it.
BLACKOUT is NOT an effect. It is a method, a devilish technique that will allow you to perform many effects.
Routines Included:
Card Revelation
I bet you This
Book test
Ghost Dead/Alive Test
Q: Does it work with any mobile phone?
A: Yes, it works with any mobile phone, however I do not recommend you to use it with Blackberry as it may give you some troubles.
Nefesch
The "Jheff's Judgment" column below is a brief summary of a longer, more detailed version. For the longer and more in-depth version, and to get news and information about other mentalism products, please visit the Marketplace of the Mind Forum or subscribe to the free newsletter.