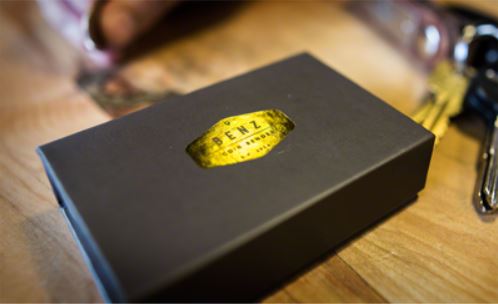 BENZ
$34.95
This is a non-featured item. For more information, please visit the Marketplace of the Mind Forum, a subscription-based site that contains more detailed reviews, news, and other information about mentalism and mentalism products.

The Blurb
There are fewer joyful moments from a spectator when they open their hand and witness a hard, metal coin warped and bent right in their hand. Even better, the astonishment they have when they see you easily bending a coin at the fingertips, like soft butter.
Bending a coin to pull off a great coin-bending magic trick has historically been expensive, or unwieldy. Using pliers or a door jamb to bend a coin is highly inconvenient and usually scars the coin. Benz gets the job done long before the trick ever starts, so there is no heat, no pressure and nothing but pure magic.
Benz is a precision, laser-cut, secret coin bending device that you will carry with you everywhere, so that you're always ready to bend a coin anytime. Benz is a refreshing alternative to pliers or doors for any coin you need bent, now.
Easy to use and carry
Bends most coins under 3mm thick
Also bends cutlery, and other small thin metal objects
Highly Convenient
Constructed & laser cut from industrial grade tungsten. It doesn't get any stronger.
Designed like a car key to easily blend in with everyday items
Durable and tough, for long life and rugged use.
The "Jheff's Judgment" column below is a brief summary of a longer, more detailed version. For the longer and more in-depth version, and to get news and information about other mentalism products, please visit the Marketplace of the Mind Forum or subscribe to the free newsletter.