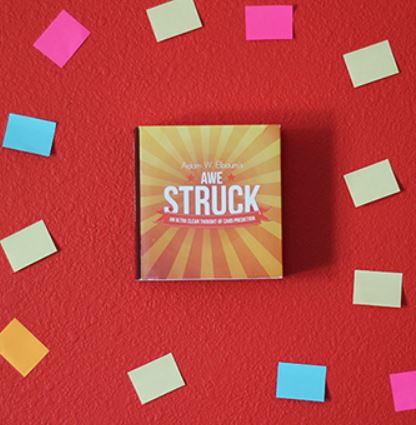 AWE Struck
$50
This is a non-featured item. For more information, please visit the Marketplace of the Mind Forum, a subscription-based site that contains more detailed reviews, news, and other information about mentalism and mentalism products.

The Blurb
"AWE Struck" is pure and staggeringly strong. This is EXACTLY what happens, with no exaggeration: someone thinks of ANY card (no equivoke or forces). You remove your wallet and inside, clearly displayed, is a hand-written note predicting the thought-of card. The wallet contains just one prediction and you can fairly show that it is a normal wallet.
Adam Elbaum has created a sensational and offbeat approach to this simple yet strong mentalism plot. They name any card and you clearly show that you predicted it in advance, written on a piece of paper isolated in your wallet.
Even includes Asi Wind's smart addition that allows you to predict two named cards.
The beautiful gimmicked leather wallet included with "AWE Struck" is custom-made for this effect, but also designed to be your every-day wallet.
– Includes everything you need
– Beautifully packaged with 1.5 hour DVD
– Multiple versions and handlings taught, including Asi Wind's version
"This trick is evidence to how smart, devious, and detail oriented Adam is."
– Asi Wind
"AWE Struck is easily the best trick to hit the marketplace in a LONG time. My mind is already filling with so many different ways I can use it. This will be the trick everyone is talking about."
– Dan Hauss
"Practical, powerful and straight forward. A cleverly layered piece of mentalism ideal for a close-up performer. Highly recommended."
– Kostya
"Elbaum has a non-stop mind for powerful magic. He puts his ideas through the ringer, trimming the fat, squeezing every ounce of impact possible, leaving nothing but a lean, clean, strong effect sure to leave your audience dumbfounded… and AWE struck!"
– Derek Hughes
"Being married to Josh I am exposed to lots of magic, and am very picky about what I like. Adam's trick AWE Struck really stood out to me. I love everything about it."
– Anna Jay
The "Jheff's Judgment" column below is a brief summary of a longer, more detailed version. For the longer and more in-depth version, and to get news and information about other mentalism products, please visit the Marketplace of the Mind Forum or subscribe to the free newsletter.