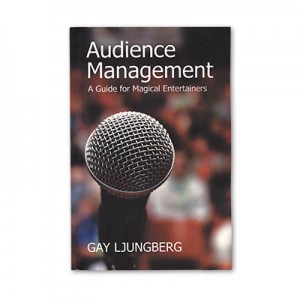 AUDIENCE MANAGEMENT
$32
(List Price: $34.95)
This is a non-featured item. For more information, please visit the Marketplace of the Mind Forum, a subscription-based site that contains more detailed reviews, news, and other information about mentalism and mentalism products.

The Blurb
A Guide for Magical Entertainers
In this book, Gay Ljungberg shares his performing experience
with the reader and reveals a treasure of valuable secrets,
about the psychology and the techniques he uses. He teaches
you how to select assistants from the audience and how you
turn them into instant actors to play with on stage. You
will learn how to conquer your stage fright, how to connect
with your audience and how to design a strategy for success.
You will also discover the secrets of crowd control and
stage presence.
Whether you are a performing magician, clown, juggler,
ventriloquist, or stand in front of an audience for any
other reason; you can improve your act by reading this book.
"I want the reader to become a better performer, by focusing
on the audience and learning to connect and communicate." –
Gay Ljungberg
Pages: 143 – Softbound
The "Jheff's Judgment" column below is a brief summary of a longer, more detailed version. For the longer and more in-depth version, and to get news and information about other mentalism products, please visit the Marketplace of the Mind Forum or subscribe to the free newsletter.