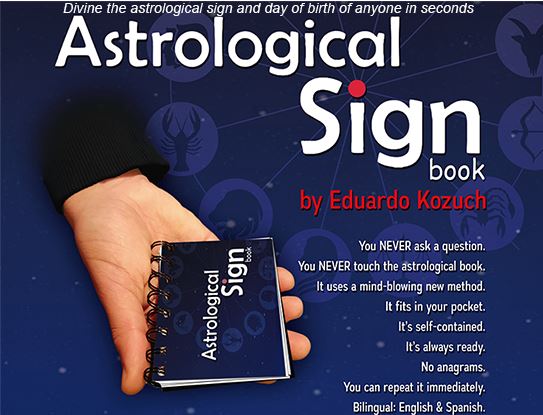 ASTROLOGICAL SIGN
$25

The Blurb
Divine the astrological sign and day of birth of anyone in seconds
You NEVER ask a question.
You NEVER touch the astrological book.
It uses a mind-blowing new method.
It fits in your pocket.
It's always ready.
No anagrams.
You can repeat it immediately.
Bilingual: English and Spanish.
You can carry it in your pocket all the time.
30 seconds to reset.
The method is new and very clever.
Completely self-contained.
It's very well produced and will last for years.
The "Jheff's Judgment" column below is a brief summary of a longer, more detailed version. For the longer and more in-depth version, and to get news and information about other mentalism products, please visit the Marketplace of the Mind Forum or subscribe to the free newsletter.