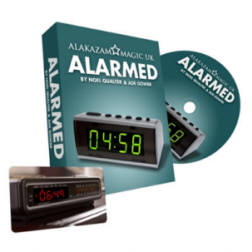 ALARMED
$57.65
This is a non-featured item. For more information, please visit the Marketplace of the Mind Forum, a subscription-based site that contains more detailed reviews, news, and other information about mentalism and mentalism products.

The Blurb
From the creator of the bestselling effect iDeck comes another off the wall commercial big hitter!
Alarmed is an incredible prediction effect that ends with your spectator receiving an impossible souvenir.
Here's The Effect:
Your spectator imagines an alarm clock sitting on their bedside table. They name any day ie Mon,Tues, Wed etc. and any time (There is no force of any kind). You draw a clock
depicting the selected time and day and ask your spec if this is what they imagined. You now reach in to your pocket and remove a photo of an old style digital alarm clock radio. The alarm clock in the photo shows the exact time and day the spectator just thought of!
You are going to love Alarmed. It's a real world worker with an amazing prediction captured in a photograph!
Alarmed comes complete with 50 x custom photo gimmicks (refills are available) and an instructional DVD outlining multiple routines and handling tips.
The "Jheff's Judgment" column below is a brief summary of a longer, more detailed version. For the longer and more in-depth version, and to get news and information about other mentalism products, please visit the Marketplace of the Mind Forum or subscribe to the free newsletter.