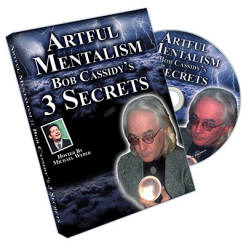 The Blurb
Mentalism legend Bob Cassidy's ideas, routines and effects have helped many mentalists just like you to build acts and reputations. In this special recording and lecture note
package Bob reveals revolutionary techniques that will serve to astound your audiences.
Bob has been performing and creating mentalism for decades. He is a founding member of the Psychic Entertainers Association (PEA) and author of "The Artful Mentalism of Bob
Cassidy", as well as dozens of highly acclaimed books, e-books, and DVDs. He has influenced just about every major mentalist working today.
Included in this special package:
The Complete 2-Hour MP3 Recording Of Bob's Live Tele-event where Bob reveals –
– The Bristol Billet
– A New Look at Peeks, Pocket Writing, Switches and Steals
– Impromptu Effects
– The Vision
– The Third Method
. . . And much, much more!
Event Lecture Notes
Post Lecture Notes With Even More Information including a unique new routine.
NOTE: This is NOT a DVD. Conatains audio file and e-book.
The "Jheff's Judgment" column below is a brief summary of a longer, more detailed version. For the longer and more in-depth version, and to get news and information about other mentalism products, please visit the Marketplace of the Mind Forum or subscribe to the free newsletter.