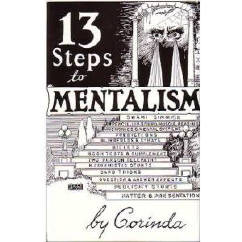 13 STEPS TO MENTALISM
$23.00
(List Price: $25.00)
This is a non-featured item. For more information, please visit the Marketplace of the Mind Forum, a subscription-based site that contains more detailed reviews, news, and other information about mentalism and mentalism products.

The Blurb
13 Steps to Mentalism has become the standard by which all other mentalism books have been judged. In thirteen chapters, it details the workings of nearly every catetory and device useful to the working mentalist. Nail writers, predictions, card tricks, blindfold tricks, muscle reading, billets, publicity stunts, patter and presentation and more are covered within its pages.
The "Jheff's Judgment" column below is a brief summary of a longer, more detailed version. For the longer and more in-depth version, and to get news and information about other mentalism products, please visit the Marketplace of the Mind Forum or subscribe to the free newsletter.