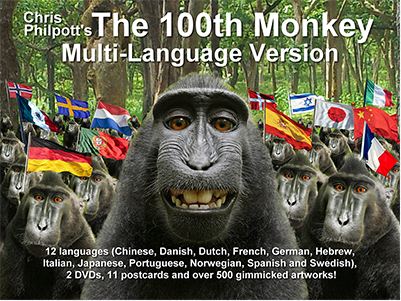 THE 100TH MONKEY MULTI-LANGUAGE EDITION
$80
This is a non-featured item. For more information, please visit the Marketplace of the Mind Forum, a subscription-based site that contains more detailed reviews, news, and other information about mentalism and mentalism products.

The Blurb
"Absolutely brilliant!" – Banachek
"The 100th Monkey is not just a method; it's an adventure! You're going to want to run with these simian secrets." – Max Maven
98% from Craig and 97% from Dave on Wizard Product Review. "I love this! I'll just stick this straight in my parlor show. A brand new principle!" – David Penn
The 100th Monkey now in 12 languages: Chinese, Danish, Dutch, French, German, Hebrew, Italian, Japanese, Portuguese, Norwegian, Spanish and Swedish!
Three effects based on a new principle. Take away someone's ability to read! Catch the scent of a thought! Let a spectator read minds!
Includes written instructions and gimmicked artworks in 12 languages, 2 DVDs, 11 postcards and over 500 gimmicked artworks!
French: "Absolument génial" – Banachek. 3 effets basés sur un principe nouveau. Otez la capacité de quelqu'un à lire! Sentez le parfum d'une pensée! Laissez un spectateur lire dans les pensées!
Swedish: "Absolut lysande!" – Banachek. 3 effekter som bygger på en ny princip. Ta bort någons förmåga att läsa! Känn doften av en tanke! Låt en åskådare läsa tankar!
German "Absolut brillant!" (Banachek) Drei Effekte basierend auf einem neuen Prinzip. Nehmen Sie jemandem die Fähigkeit zu lesen. Fangen Sie Gedankendüfte. Lassen Sie einen Zuschauer Gedanken lesen!
Portuguese: "Absolutamente brilhante" – Banachek. 3 efeitos com base em um novo princípio. Tire a capacidade de ler de alguém. Capte a essência de um pensamento. Faça com que o espectador consiga ler mentes!
Danish: "Simpelthen strålende!" – Banachek. 3 effekter baseret på et nyt princip. Fjern en persons evne til at læse! Indfang duften af en tanke! Lad en tilskuer læse tanker!
Italian: "Assolutamente geniale '-! Banachek. 3 Effetti basati su un nuovo principio. Togliere capacità di qualcuno di leggere! Prendere il profumo di un pensiero! Lasciate uno spettatore leggere le menti!
Spanish: "Absolutamente genial!" – Banachek. 3 efectos basados en un nuevo principio. Quitale la habilidad a alguien de leer! Captura la escencia de un pensamiento! Deja que un espectador lea mentes!
Dutch: "Absoluut briljant" – Banachek. 3 effecten gebaseerd op een nieuw principe. Verwijder iemands vermogen om te lezen! Vang de geur van een gedachte! Laat een toeschouwer gedachten lezen!
Japanese:???????'!Banachek???????????????????????????!
Chinese: "????!!" – Banachek ?????????????????!!
Hebrew: Banachek -"???? ?????!".????? ??????? ?? ?????? ???. ?? ?? ?????? ?? ????? ?????!
Norwegian: "Helt fantastiske"- Banachek. En effekt basert på et nytt prinsipp. Ta bort noens evne til å lese!
NOTE:
Chinese, Hebrew, Norwegian and Japanese versions include ONLY speechless, where you take away someone's ability to read. Video instructions included but are in English ONLY and contain some material not on this version.
The "Jheff's Judgment" column below is a brief summary of a longer, more detailed version. For the longer and more in-depth version, and to get news and information about other mentalism products, please visit the Marketplace of the Mind Forum or subscribe to the free newsletter.